Ok seriously this day is going way too slow. Work isn't too busy, and I am not complaining, but it makes the wait to see Fabrice even harder!!

Unlrelated - here is a picture of Logan Jesse texted me this morning: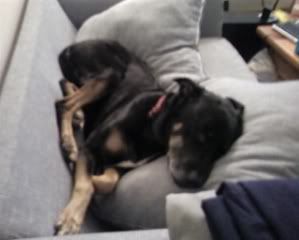 Haha. This has made me smile every time I've looked at it. She's so cute!!! She actually gets kind of stuck sometimes when she sleeps on the back cushions like that...it's a tough life being my dog.

Remember when I said I'd take a break from posting? I'm a liar.